To cross the US, that's a child dream which comes trues. 
There are several options. 
- Flying: fast, not too expensive but you don't get to see the scenery
- Driving: Cars are the main mean of transport in the US, but you need money (either to rent or buy), drivers and a lot of time... It's still a continent to cross.
- Bus: quite slow and mainly highways... So you don't get to see a lot neither.
- Train: more expensive than flying, faster than the bus and safer than the car. It goes where neither the bus nor the car can go. 
Thus my choice is quickly made and I decide on a 72-hour train trip.
How to do it?
It's quite easy. The departure is from NYC Penn Station. One change in Chicago and arrival in Emeryville, CA. The end of the journey to San Francisco, CA is by bus. 
NYC Penn Station -> Chicago
3:40PM -> 9:45AM + 1 day : Train 49 Lake Shore
Chicago -> Emeryville
2:00PM -> 4:10PM + 2 days: Train 5 California Zephyr
If you are well organised, you just book your ticket online on the Amtrak website. When you're like me, you end up in Penn Station with a nice smiley face hoping you'd get a seat for the same day... All sold out and only a possible departure the day after. Thus I have to spend one more night in NYC, which means to find a new accomodation and a lighter bank account. But it's another beautiful day in the Big Apple. Why would I complain?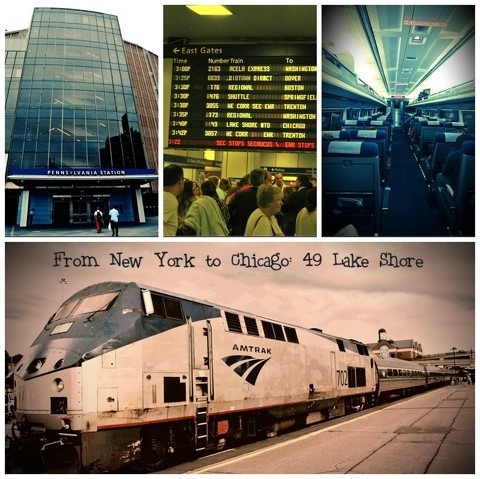 The experience: from NYC to Chicago
Here I am, in Penn Station, at 3:00PM sharp as suggested by the Amtrak lady who sold me my ticket. I'm waiting in the main hall before the board for the Train track to be displayed. It will be done only 10-15 minutes before departure time. When finally the track number appears, a huge queue of passengers forms before the escalator. First check of my ticket. Passed! I can go to the next step and find another Amtrak employee to know to which coach I'm supposed to go to. This will depend on your destination. No attributed seat on the ticket, I choose 2 seats for me only. Waouh, American standards! For me, a little Asian body, it's too much comfort. The attendant is super nice and explain it all about the restrooms which would be kind to keep clean, the train, the snack coach, the dining coach and the smoking stops. They tought about the smokers... I am saved!
The few hours of daylight give me a nice view on the Hudson river which we follow for quite a while. We cross some unknown villages with weird names such as Poughkeepsie. 
The night is falling and I finally get a neighbor. He pushes my legs out of his seat, which hardly wakes me up. First lights of the day... I open one eye around 7:00AM and the second one around 7:30AM. Just in time to enjoy the last smoking stop before Chicago. All in all I slept 13 hours in a row. "Waouh you really are a sleeper" my neighbor tells me, quite amazed. I call him John because we didn't exchange our names but only a very interesting debate on travels, life projects, ghosts and energy work, christianism and faith, blacks in the American society... We find the same stereotypes everywhere. Finally we reach Elkhart. Time to say goodbye. 
I pass through Ohio, Indiana and some unknown small villages. Still over 5,000 inhabitants. At home, it's already a city size. But American standards... Along the rails, I can admire the rich wild life.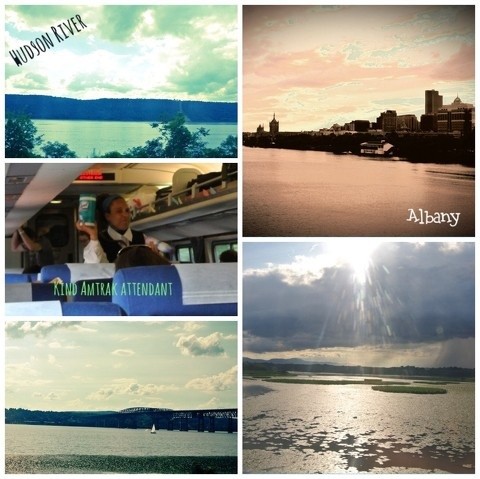 You may be familiar with the French punctuality of the SNCF rail company and you moaned about it... Wait to experiment the Amtrak. We reach Chicago with 5 hour delay, just enough time to make it to my connection. I wanted to take advantage of the stop to walk around Chicago... That will be for another time, by plane.
From Chicago to San Francisco: a big Waouh!
I am welcomed by another Amtrak attendant who repeats the same speech about the train. Though his enthusiasm is very communicative and gives us a big laugh in the coach. 
"Gentlemen, for the ladies' sake, brace yourself, lean and aim straight! The ladies will thank you for that. But if you miss, no worry. I'll have your back." 
We cross again the vast plains of Ohio, to reach Nebraska at night. No regret tough as there is nothing to see in Nebraska according to the Amtrak agent. Wait to be after Denver. There the magic starts.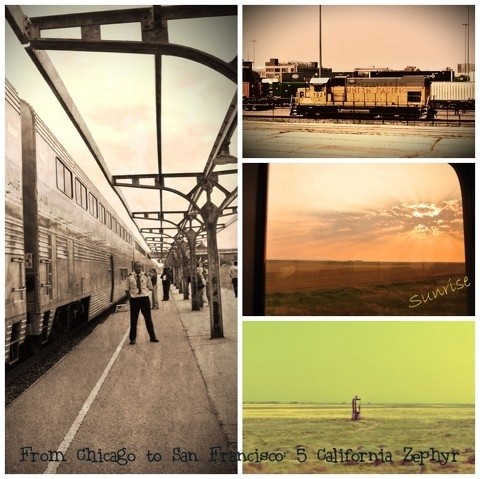 We leave Denver around 11:30AM and straight after we begin to climb the Rockies. The trip between Denver and Grand Junction is commented by 3 Natural Parks & Trails members. An awesome touristic visit with many explanations on the wild life, the Rockies, the coal industry, etc... We pass by some rafters who moon the train, long time tradition which gives us a good laugh. 
There is a lounge coach in the train, with huge windows to enjoy the view. I spend most of my days there and meet an retired science teacher who gives me a lesson on all the plants and animals, a Japanese who lives in NYC to learn English, an Irish teacher who uses all his summer breaks to travel, an old gay Mexican who loves foreign languages, singing to me "La vie en rose", and a Dutch who shows his kids around, knowing the area from his past student life in Salt Lake city.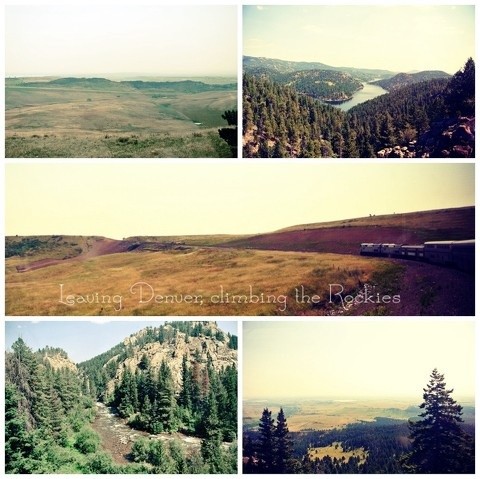 We arrive in Sacramento, and finally we can see the SF Bay. Almost there... Arrival in Emeryville, 1 hour early. So with Amtrak, you know when you leave but you never know when you arrive. I jump in the bus to SF, about an hour and we are in the city center. We cross the Oakland bridge and can see the SF skycrapers and the Golden Gate bridge from afar.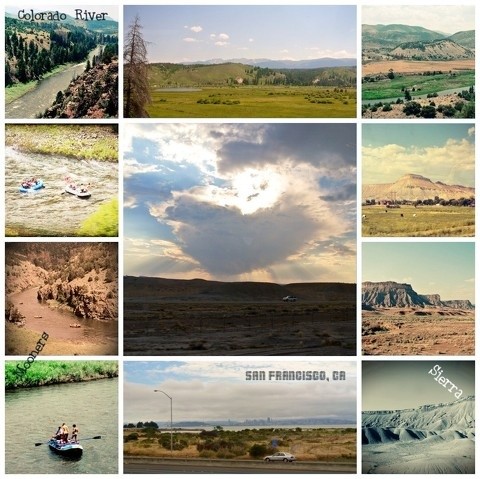 Have you ever wondered why it is called the Golden Gate while it's red? The thing is that there is only one way to enter the bay and this passage is called the "Golden Gate". Ah ah!
I see three naked men walking along the piers, among the other tourists. I'm told it's quite normal here... California I guess. The bus stops me in front of the shopping center, on Market St. The Californian episode can start... To be continued.