So here I am, first time in California...
Of course, when I think about California, I expect sun and heat. But that's not San Francisco... Here you have a micro climate which makes the city temperature 20 Farenheit less than the rest of the state on average. The encounter of the stream coming down from Alaska and the hot air coming from the desert results in a nice and thick fog in the morning and in the evening. So rule number 1, always have a jacket or something warm with you.
What did I do during these 4 days?
Simple: walk, walk and walk more... Wandering around the city is amazing and an excellent cardio training. I love the mix of victorian and modern architecture. 
Day 0: I arrive in San Francisco with the Amtrak bus. It leaves me in the city center. First I go to the Starbuck and its free wifi to find my couch host. Lucky me, he's only 1,5 miles away. I walk about 20 minutes to find myself at the corner of Harrison and the 8th. I'm in front of a nice 3-floor building. It's 5:30PM. I ring the bell: Hi, it's Eloa. He answers, tells me to wait, he's coming down. He opens the door, greets me and I follow him to the first floor. The appartment is so cool, tidy and clean. After the classical intoduction, we discuss a little. That's his first time hosting, it's my first surfing. He's Indian, studied in Michigan and has worked as an engineer in SF for the past 4 years. He talks fast, I hardly understand. He tells me he's super busy so he can't show me around. No problem, I can take care of myself. I take a shower. After 3 days in the train, it's almost heaven. 6:30PM, I'm hungry and asks him if he wants to join, no. I find a Thai restaurant 2 blocks away. I eat a little and give the doggy bag to a homeless. I'm back around 7:30PM. He's got stuff to do, so he goes upstairs and leaves me with the TV. I sleep like a newborn, awesome couch!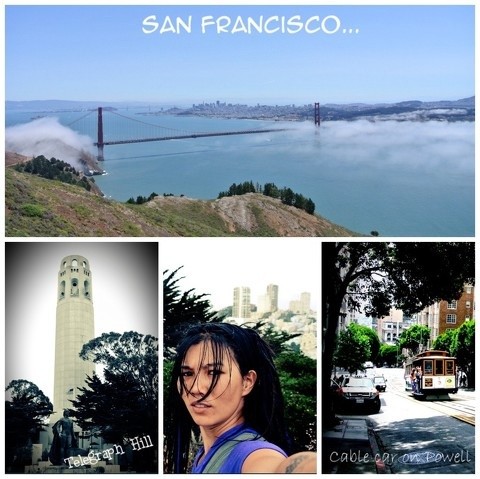 Day 1: 7:00AM I hear some noise so I wake up. I know he'll kick me out around 9:00AM. He tells me he'll be home around 8:30PM but I can come back much later if I want. I don't really feel welcomed, he's nice but not used to have someone around. Just another night and I'm out... 
Agenda of the day: walking aroung and discovering of the city. 9:10AM, I'm on Market St. and walk until I reach the port. The fog is thick and wet, almost rainy. Luckily I have my softshell on. I follow the piers to Fisherman's wharf. On the way, I meet Joe, bus driver of the citysightseeing tours. We have a small tchat and he gives me a city map which I'll use to guide me in the streets. I'm in front of the departure point of the Alcatraz cruises... Sold out until August 18th... Whatever, I'll see the island from afar and that's enough. I keep on walking towards Telegraph Hill and the Coit tower. After climbing a neverending stair, I go down to Chinatown through the Washington park. None of the streets surrounding the park are named Washington, there is a Lincoln's statue in the middle... So no one knows why it's called Washington. Anyway it's dedicated to Juanna, widow, farmer, and healer from the 19th century, who is known for her generosity. I continue to Union Square, then right to Japantown. The steep slopes are killing my tighs. I'm on Fillmore now, reaching Alamo Square where there is a 360º view on SF and Richmond. I lay down on the grass there, short break to catch my breath. 7:30PM, I'm back to my starting point. I find a Burger King and eat a cheeseburger ($1). 8:30PM, finally I can go back to the appartment.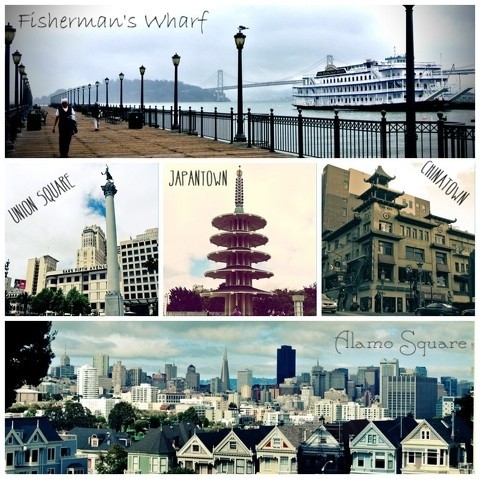 Day 2: 9:00AM, I leave my couch host and go to a hostel nearby. Welcome is good and I can leave my bag. 6 beds are packed in the small room, for $30 a night. I go downstairs to the kitchen and meet César, a French medical student. He's going to Los Angeles in 2 days. That's my chance to get a lift. 12:00PM, I finally have the courage to move. It's a sunny day today and the right time to go see the Golden Gate bridge. I take the #38L bus which follow Geary St. all the way down to the coast. There, I walk the Lands Ends trail with a beautiful view on the bridge, an hour and a half. 3:00PM, I take the bus back to downtown. My ticket is about to end. I ask the driver if I still can ride. He takes it and give me a new one for free. Nice! I stopped on Hyde St. for a needed Starbucks break. After drinking a Tall Cool Lime refresher, I'm back on my feet to the Civic center and enjoy the street arts along the way. 7:300PM, I'm back at the hostel. I meet Winston, waiter in a French restaurant, looking for an appartment. Then come in an Irish guy who congratulates me about my accent, a German buddy addicted to milk and an Englishman, half stoned. 9:00PM, I'm exhausted and go to bed. But 6 girls in a room makes it difficult to sleep. I meet a German girl from Berlin, Azumi, a Japenese in vacation, Sonia, the Italian student from Copenhaguen and Dawn, 43, afro-american who gives us a lecture on the history of California and SF and how the youth has to be educated to fix the world. Midnight, bed time! Good night!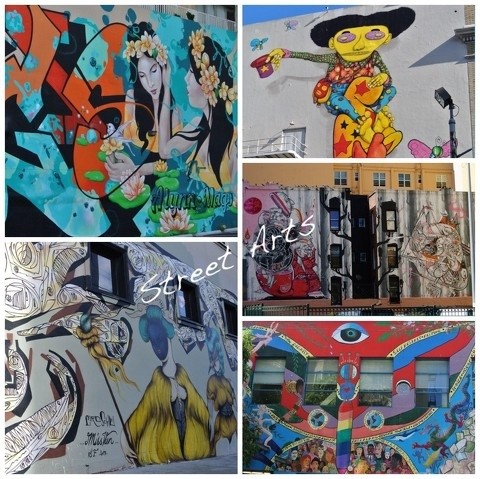 Day 3: 8:00AM, the whole hostel is waking up. I goto the kitchen where I'm given all the leftovers of those who leave. Cool, free breakfast! I chill out for a while on the couch, waiting for the fog to disappear. I really don't feel like walking today. So I stop by a chinese food restaurant and take away my lunch to Alamo Square. I eat my full enjoying the view and the sun. I walk down to Haight and Ashbury streets, the hippie/hipster neighborhood and keep on going to the Golden Gate park. Reaching the Japanese Tea garden, I turn back as my legs start to hurt really bad. I go down Haight street again and stop at a tattoo shop to remove my piercings. At the end of the day, I walked again about 4/5 hours... I buy my diner at the Walgreen: some pasta with tomato sauce. Back to the hostel, I watch a movie played by Winston and go to bed.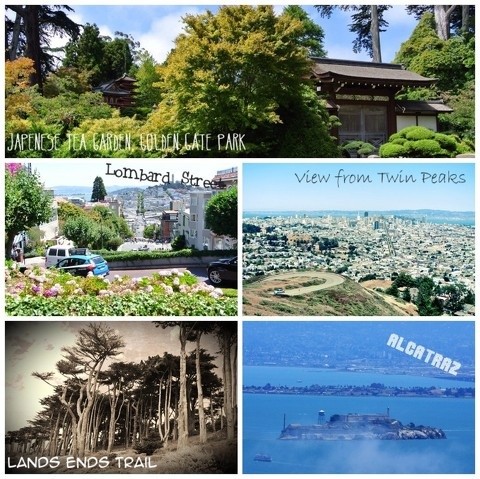 Day 4: last morning in SF. I check out around 10:00 after a coffee. I'm waiting for the guys who give me a lift to LA. 10:30AM, still no one... I hope they did not forget me. I ask the receptionist, they are still here. Ok, they just overslept. 11:00AM we load the car and wait for Cesar and its Harley. 12:00PM we hit the road and cross the Golden Gate bridge to Marinheads. One of the best viewpoint over SF and the bay. Back south to Twin Peaks, another must viewpoint and last photos of SF.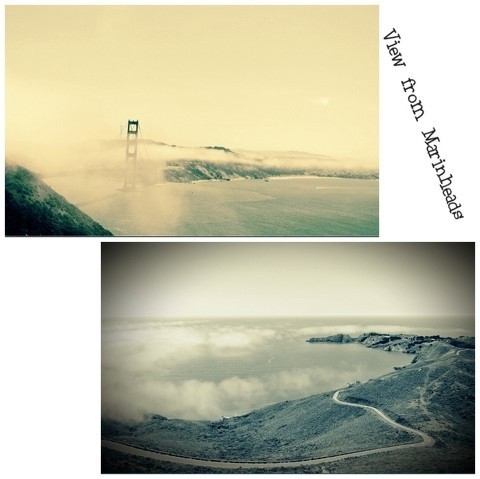 My SF trip is ending. In total, over 20 hours and 80 miles of walking in the streets. My legs are soar. The Couchsurfing experience leaves me with a bitter sweet impression. I really do prefer hostels to meet people. I saw a lot, a lot of homeless. And if they're not dangerous, it can gives you the creeps if you're not used to it. The people here are generally warm and polite. The atmosphere in the city is very peculiar and makes you feel at home. 
We take the Pacific Highway 1, heading south to LA. But that's another story...